Walking The Room in San Francisco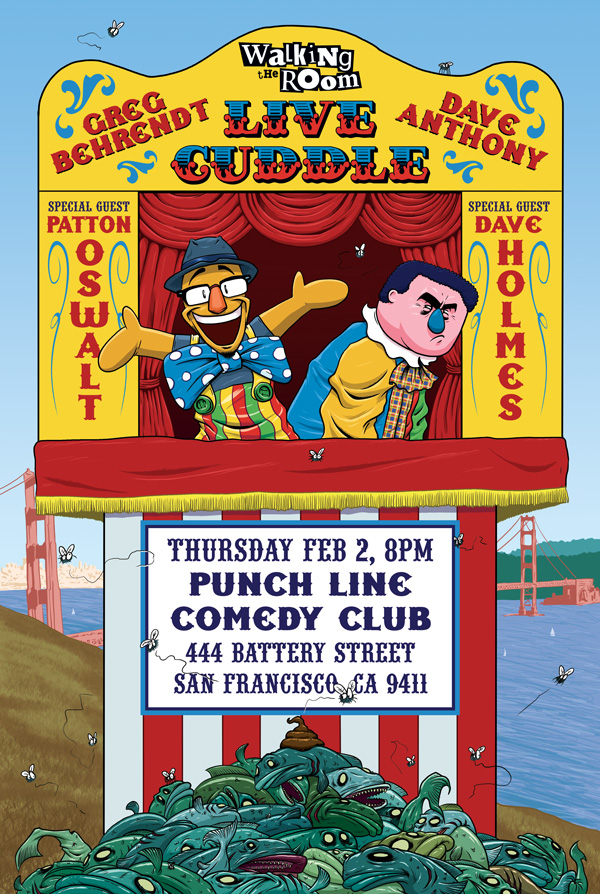 So this one's bitter sweet.  It's the second poster I've done for my most favouritest podcast, Walking the Room with Greg Behrendt and Dave Anthony.  They were doing another live recording, this one during Sketchfest in San Francisco, and Greg asked if I could do up another poster for them.  Mais oui, mes amis (I think this is my new catch phrase)!  As an insecure artist type, whenever someone comes back for return business it's one of the few instances where I can actually believe they enjoy my work and aren't just being polite so this offer meant a lot.  When someone you're a fan of likes what you do, it's a bit mind-blowing.  Greg's also a great client in that he just lets me do what I do.  I think because I'm a fan of the podcast, he knows that I get what they're about and my style seems to work with what they do.  The jobs are always fun.
I originally didn't know who the guests were – I just had some question marks in the initial sketch as place holders.  When Greg told me one of the guests was Patton Oswalt,my jaw dropped.  I started listening to Walking the Room thanks to an iTunes search for Patton Oswalt.  I listened to his first time in the closet (Walking The Room is recorded in a closet) and was hooked on the show.  So, the concept that Patton Oswalt, along with Greg and Dave (and Dave Holmes, who I'm embarrassed to admit I haven't heard of but who I'm sure is awesome if he's a guest on the show) would be signing MY WORK was just too much for my little brain to process.  And I'm getting paid for this!
Sounds pretty sweet, Gav.  Where's the bitter come in?  Well, I just got word tonight that all the merch from the show got stolen.  Ripped off.  I just don't understand this.  Why do people steal things that have no value to them?  I can't imagine this genius will be getting much for Walking The Room posters (and shirts, etc) from his local pawn shop.  When Brainiac realizes this, the posters will end up in a dumpster.  This makes me pretty sad.  There had to have been a few Cuddlahs (the term for Walking The Room fans) that would've appreciated having this poster on their walls.  Also, Dave and Greg are now making no money from them.  And to add a totally selfish bummer to the list, I now won't have a piece of my art signed by these four in my home.  It sucks.